30 Stocks to Watch This Week - 11990 views
The following commentary comes from an independent investor or market observer as part of TheStreet's guest contributor program, which is separate from the company's news coverage. The opinions expressed are those of the author and do not represent the views of TheStreet or its management.
NEW YORK (Scott's Investments) -- Each week I publish stocks to watch for the upcoming week as potential momentum trades or longer-term investments. The stocks below all have a 50,000 minimum average daily share volume and traded at a 52-week high on strong volume, with a minimum of two times relative volume on Friday, June 24. In addition, stocks were required to close Friday higher than the open price. The full list with weekly performance is tracked on the right-hand side of Scott's Investments.
----------------------------------------------------------
More From Stockpickr
----------------------------------------------------------
Last week 17 stocks made the cut, and this week's list of 30 stocks is the most we have seen on a list since April. There are several intriguing trade candidates on this week's list. Biotech/drug manufacturing remains a hot, speculative industry. This should come as no surprise as healthcare continues to perform strongly relative to other industries. A comparison of the three-month performance of SPDR Health Care ETF (XLV) to the S&P 500 is below. XLV is also a top three selection in my U.S. Sector ETF Portfolio for June due to its relative strength compared to other sectors: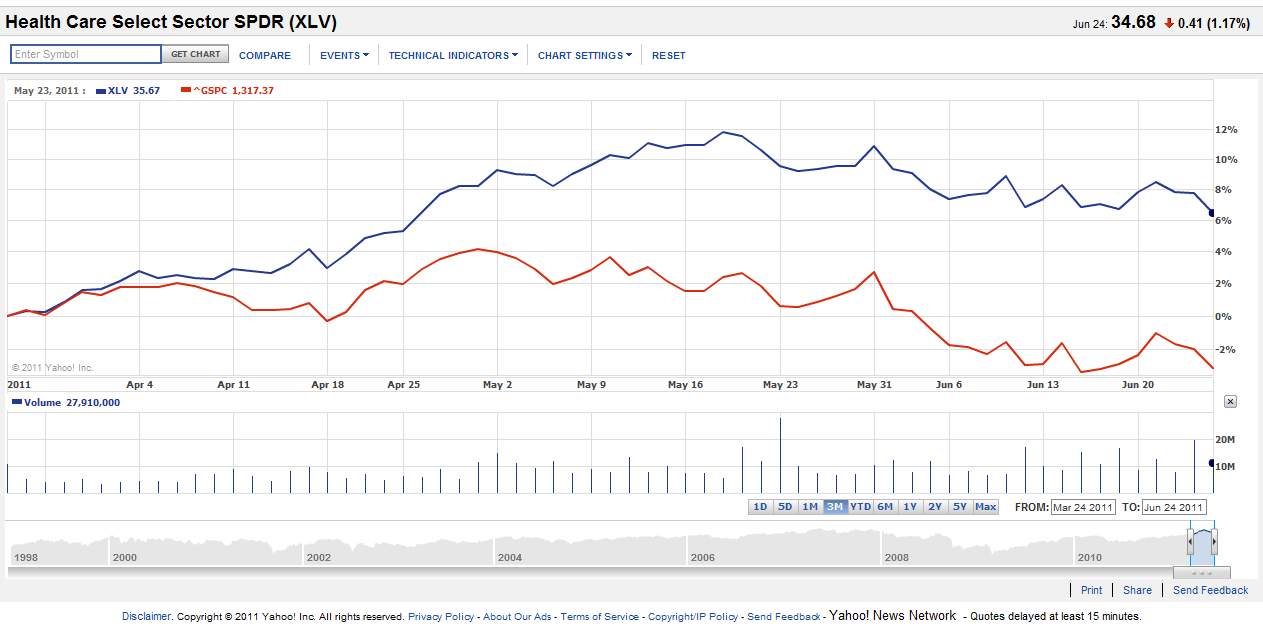 Multiple stocks on this week's list were on previous lists, a bullish sign for these individual stocks that accumulation continues. Caribou (CBOU), GT Solar (SOLR), which was featured in my June 3 update, EasyLink Services (ESIC), Pharmacyclics (PCYC) and SciClone Pharmaceuticals (SCLN), featured in the May 17 list , are all repeat stocks appearing on this week's list.
While I track the overall weekly performance of each list, my objective is not to purchase or recommend every stock on the list. The primary objective is to identify stocks that are either short-term trades or long-term investments. GT Solar looked like a candidate for both a trade and investment, which was why it was featured on June 3. PriceSmart (PSMT) was featured in my May 6 list and had volatile price action in subsequent weeks. After waiting for PSMT to form a wedge pattern, I initiated a long position, betting on a breakout. I like the long-term growth prospects of PSMT and technicals; however, my long position was not initiated until over a month after it appeared on my "Stocks to Watch This Week" list.
SciClone (SCLN) is not without its fundamental risks, as I detailed on May 17. However, if it is able to break through $6, it could very likely ascend to $7to $8 based on its historical prices levels:
Chart courtesy of Finviz.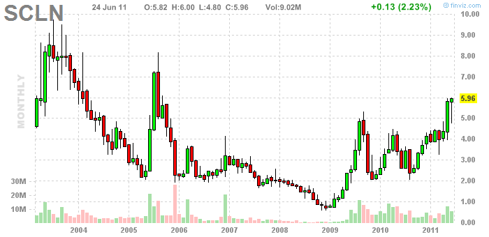 Caribou Coffee is a stock that is intriguing both from a fundamental and technical perspective. It is trading near an all-time high, meaning there is no overhead resistance: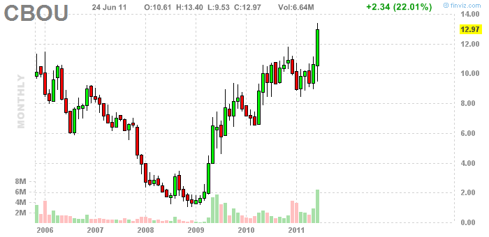 From a fundamental perspective the company has improved in recent years. After suffering earnings losses from 2007 to 2009, the company has grown earnings in 2010 and 2011 and has no debt. In addition, it has improved its return on equity to over 46% and is projected to grow earnings this year at 77% and 21% annually over the next five years. It currently trades at a price-to-earnings-growth (PEG) ratio of 0.39. In the short-term, a pullback to $12 would not be surprising and could serve as an entry point.
At the time of writing, author was long PSMT.

Scott's Investments focuses on consolidating and tracking free online investment resources for the public with an emphasis on ETFs, portfolio/trading strategies and macroeconomics. Follow Scott's Investments on Twitter.
blog comments powered by

Disqus
Home




Portfolios

Professional

Stockpickr Spotlight

User Generated

Tools

Market Indicators

Upgrades and Downgrades

Daily Lists

Articles

My Stockpickr